We truly believe in ​Gameplay First
Reaching players worldwide
KONG STUDIOS GAMES
GUARDIAN TALES on mobile launched globally in July 2020. The game is currently in service across 230 countries. Immediately after release, the game started its service with high expectations and a rating of 4.9 in app markets. After 7 months from launch, it got 10 million downloads and 100 million dollars in sales globally.
In April 2021, GUARDIAN TALES launched in China and became the most downloaded free game on its first release day in the App Store. GUARDIAN TALES has successfully launched in Japan in October of 2021, and it has met with great reception from early users. Currently, a global Nintendo Switch port is in the works.
The previous game 'DUNGEON LINK' was a new-style RPG featuring gameplay of connecting lines to attack enemies. It gave users a fresh and fun experience with its unique gameplay and diverse heroes. In 2016, DUNGEON LINK collaborated with Cartoon Network's 'Adventure Time with Finn and Jake' and got 5 million downloads and 10 million dollars in sales globally.
ABOUT
KONG STUDIOS Inc. is a gaming company that started off in 2013, Silicon Valley, U.S.A. In August 2021, Kong Studios grew into a 'unicorn' (valued at 1B USD) by attracting Series B investments. We believe a game's essence is original gameplay and narrative. Our company develops games with earnest research for fun and a craftsmanship mindset. We strive to create the best game approved by gamers across the world.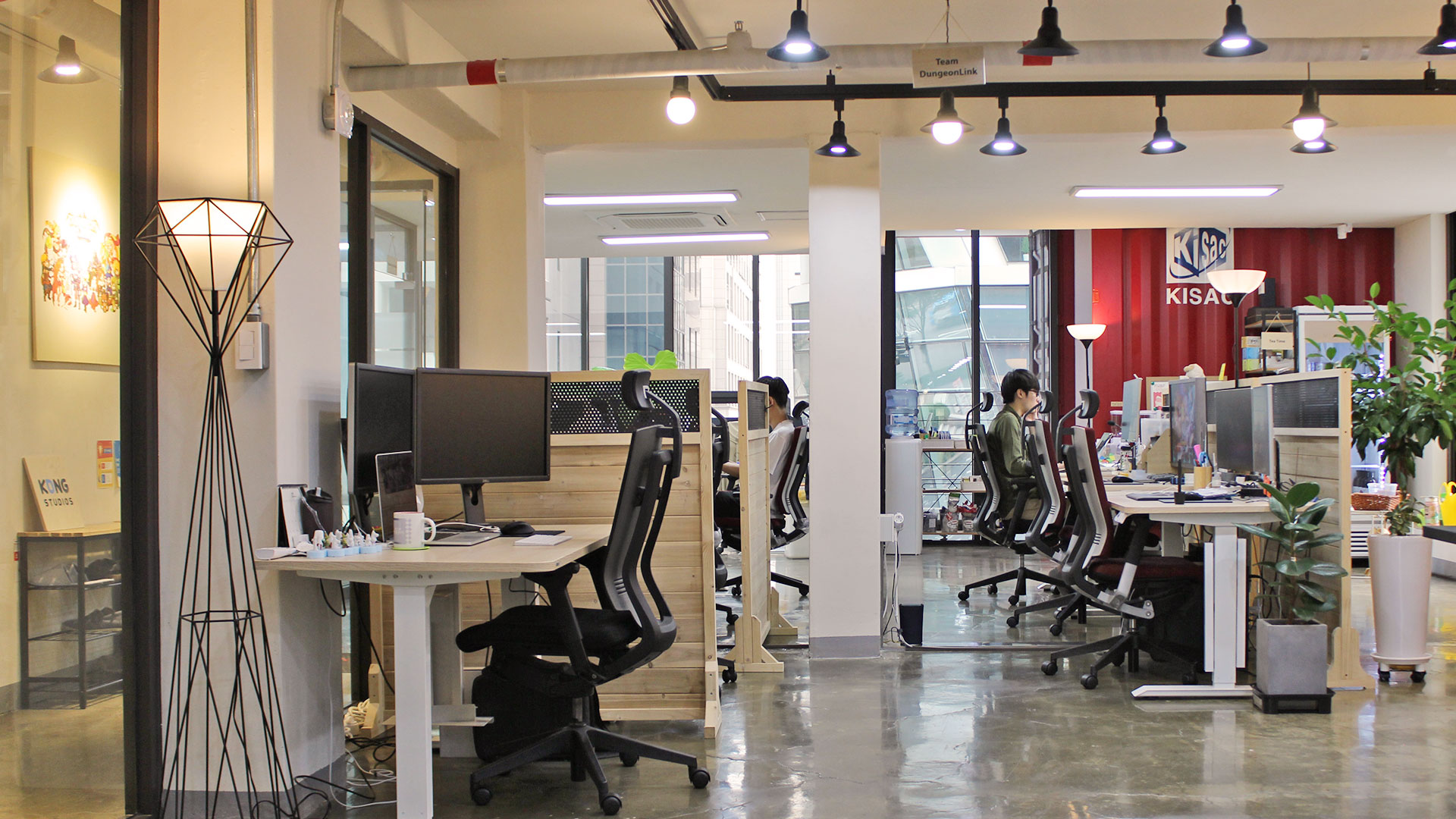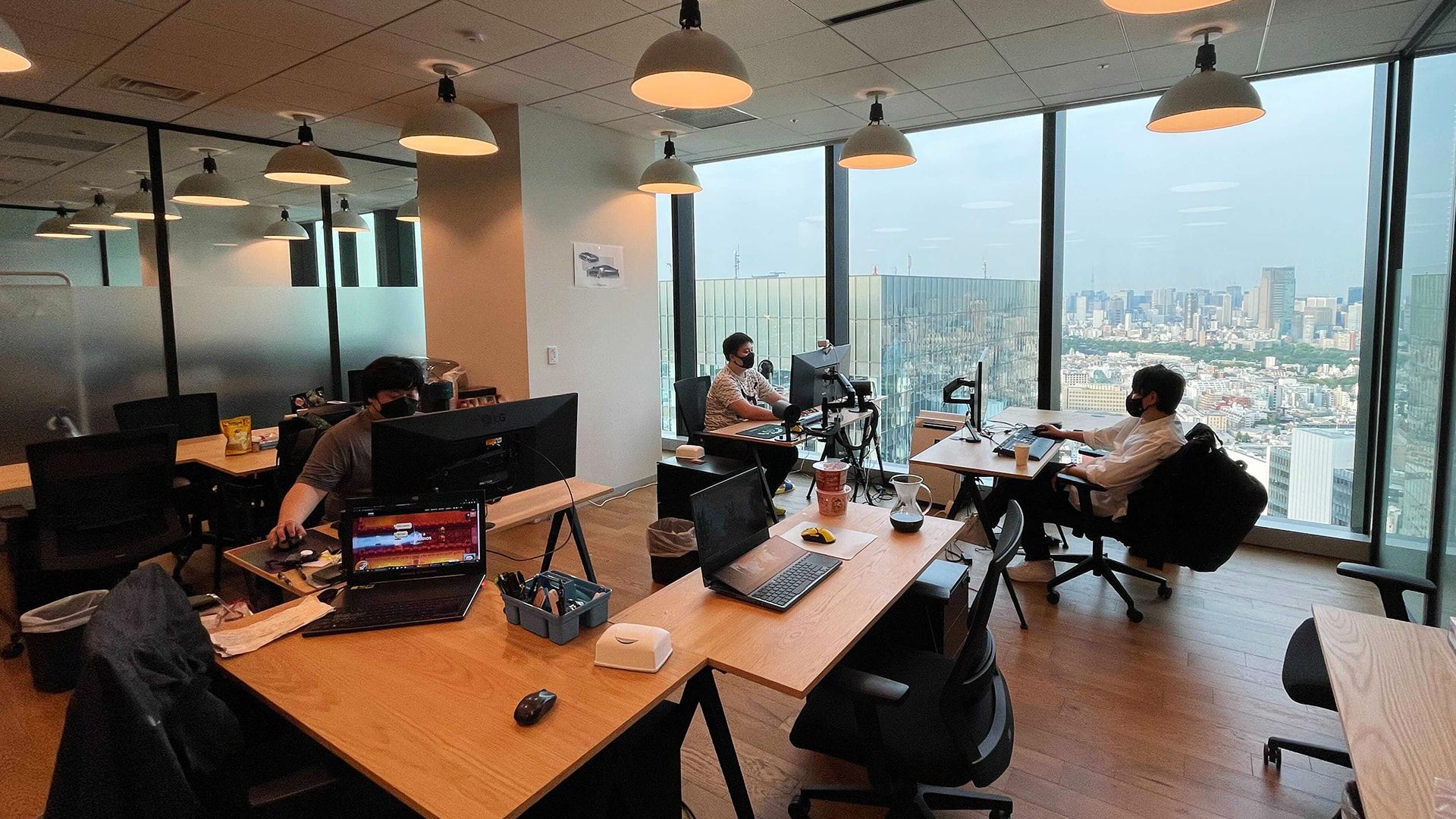 CAREERS
KONG STUDIOS is full of young, talented and competitive people skilled in game development. Our company is growing rapidly each year in both skill and size, and we are waiting for talented people in diverse and different fields.
We hope to develop fun games together with great people and for a long period.
NEWS
2023-09-20
Kong Studios Supports Korean Developers Friendship Event

2023-09-20

2022-09-14
Save Your Kingdom and Become a Legend in Guardian Tales on the Nintendo Switch

2022-09-14

- The popular retro-style mobile game is heading to Nintendo Switch on October 3rd

9/14/2022 - Kong Studios is preparing to release its hugely popular mobile RPG Guardian Tales on the Nintendo Switch on October 3rd. Since the game's global release in July 2020, Guardian Tales was among the top ten most downloaded games on both the Apple App Store and Google Play due to its solid storyline, charming graphics, and immersive gameplay. Nintendo Switch players will soon be able to embark on this classic, adventure-type RPG to save a kingdom that has been overrun with enemies. Those who want to play the game can pre-register on the Guardian Tales Switch website (gt4switch.com) or apply for pre-orders at Nintendo eShop starting September 14.

The following Launch Rewards will be available to those who pre-register for Guardian Tales :
• 100,000 Gold
• 3,000 Free Gems
• 100 Free Summons (10 per day)
• 3 Star Equipment (Fantasy Sword)
• 2 Star Hero (Aoba)
• A Rose Knight Costume

After starting Guardian Tales for the Nintendo Switch, players can check and obtain rewards in the [Mail] menu when the player logs in during October.

In Guardian Tales, a new knight recruit must quickly jump into action after a surprise attack on Kanterbury Kingdom. They must take on the role of the Chosen One and will need to travel the world to find the other 12 Champions. The player will meet various comrades in the many diverse worlds available to explore in the game. Having comrades at the player's side will be useful in fighting bigger and more evil enemies throughout their quest.

Guardian Tales isn't all about the main quest! Players with a knack for customization will be able to decorate their floating castle known as Heavenhold once they have progressed far enough into the game. For players who enjoy social media, there's a feature called FaceBreak. As players go through the stories, certain characters they meet will follow them on social media and post fun and interesting statuses.

A full list of features includes:
• Single Player Story Mode: This is the signature mode of Guardian Tales, where players must solve different puzzles to uncover secrets and fight monsters to clear missions.
• Guilds: Players can join a Guild with others after progressing through some of the story. There are different events guild members can take part in, like Raids for ranking regards, Meteor Excavation for items, and Guild Conquests, where players fight to win as many rewards as possible.
• Customizable Floating Castle: Build up your base of operations at Heavenhold. Players can enjoy different foods and entertainment unlocked throughout their playthrough.
• Hero and Weapon Collection: It's dangerous to go alone! Collect and choose from over 100 different weapons - each with its unique abilities.
• Puzzle Solving Gameplay: Lift heavy boulders, throw explosive bombs, and sling yourself across obstacles to discover hidden pathways to amazing treasures!
• Intense PvP and Rankings: Assemble and synergize your best party of three heroes to face others in real-time in combat for glory!

Guardian Tales will be available on the Nintendo Switch eShop for free.

About Guardian Tales

Guardian Tales has gathered more than one million pre-registered users before the global launch in 2020. Also, it was ranked #3 in revenue and #1 for free downloads, a very promising indicator in the Chinese market when it launched. Guardian Tales quickly became the most downloaded game in both major mobile markets within just two days of its release in Japan. It maintained that status of most downloaded for two weeks straight before quickly surpassing 3-million cumulative downloads within four months of the official launch in Japan. Additionally, the game was ranked #1 in sales in the Google Play Store and #4 in the Apple App Store within the first month of release. The game recently climbed to #3 in sales in the Apple App Store after the "World 10 Chapter" update last January.

2022-07-26
Kong Studios Attends Japan's Comic Market (Comiket), The largest Anime Event in Japan.

2022-07-26

- Kong Studios will be attending the world's biggest Manga and Anime convention 'Comic Market' in Japan on both August 13th and 14th, 2022.
- Kong Studios will be attending the world's biggest Manga and Anime convention 'Comic Market' in Japan on both August 13th and 14th, 2022.

U.S Game Developer Kong Studios will attend Comic Market (a.k.a Comiket), hosted in Japan, on both August 13th and 14th, 2022.

Kong Studios, which is self-publishing the mobile game 'Guardian Tales' in Japan, announced they will attend Comiket to meet with local fans on 26th.

Kong Studios will have a booth resembling the Inn featured in 'Guardian Tales'. Popular characters from the game in Japan will be cosplayed at the booth such as: Miya, Idol Eva, and Mayreel. OST CDs, acrylic figures, and little princess t-shirts will be available for presale for any fans visiting the booth at Comiket.

A representative from Kong Studios stated, "We've prepared various sights and events for our fans and we're planning more events for the future so that we can communicate and create more enjoyable memories with our fans."

'Guardian Tales', a mobile game developed by Kong Studios, has achieved top charts within the Free to Play category for both the Google Play Store (1st) and Apple App Store (1st) after it's official release in Japan. The game has accrued a total of over 3 million downloads within 4 months. The game continues to earn popularity and holds the top ranks for the Google Play Store (1st) and Apple App Store (3rd) in the Top Grossing category in Japan.

Comiket is the world's largest Manga and Anime convention and is held twice a year during the summer and winter seasons. Comiket will host its 100th convention at Tokyo Big Sight (Tokyo International Exhibition Center) on August 13th and 14th, 2022.

2022-04-30
Kong Studios moves its HQ to Santa Monica, a hub city for game development companies.

2022-04-30

- Kong Studios moves its HQ to Santa Monica CA, a hub city for renowned game companies such as Naughty Dog, Respawn Entertainment and Infinity Ward.
- In August 2021, US-based game developer Kong Studios raised $62M USD through Series B financing, instantly earned 'unicorn' status and is now focusing on developing a Triple A (AAA) title for its next project.

U.S Game developer, Kong Studios Inc (Kong Studios), moved its headquarters from Nevada to Santa Monica, California. Santa Monica is a hub city for many renowned game development companies such as Naughty Dog, Respawn Entertainment and Infinity Ward. Kong Studios plans to ramp up development for its next triple A (AAA) title.

Kong Studios released its first game 'Dungeon Link', a mobile puzzle RPG, in 2015 and released the second game titled 'Guardian Tales', a mobile adventure RPG in 2020. Guardian Tales is a highly polished game, featuring a well-written story line, and various characters expressed with detailed pixel-art graphics. Guardian Tales made its global grand launch in U.S, Europe, Korea and 230 other nations at the end of July 2020. In 2021, the game also began its services in China and Japan.

After its release, the game received continuous praise from global users. Guardian Tales achieved $216M USD in sales and a total of 25M downloads only after a year of release. In August 2021, Kong Studios closed a $62M USD Series B financing round and instantly became a 'unicorn' status company valued at $1B USD.

The success Kong Studios had in the Japanese gaming market right after Series B financing is evaluated as being in a league of its own. In October 2021, Kong Studios self-published and began service in Japan through its Japanese branch. Within 2 days of launch, Guardian Tales became the most downloaded game for 2 consecutive weeks in both the Apple App Store and Google Play Store for the free-to-download category.

Guardian Tales not only achieved 1st place for sales in the Google Play Store and 3rd for sales in the Apple App Store but was also featured on 'Apple-Featured' which evaluates games based on excellence of quality. The game had successfully launched in the Japanese market, which is considered to be the home of sub-culture games. The feats Guardian Tales made in Japan lead to success in sales as well. After the first quarter of 2022, total sales passed $350M USD and the company is showing steady growth in the global market.

Kong Studios is planning to use its steady growth as a base to expand HQ's role. It plans to expand its IP (Intellectual Property) and related businesses in various areas. Unlike the 2D graphics based games it previously released, Kong Studios is planning to focus on developing a 3D open world sandbox game for the next title. Staff from Kong Studios stated: "HQ's move to Santa Monica is a significant start for Kong Studios Inc. It signifies growth of our company into one capable of developing a triple A (AAA) title. We are planning to actively hire professionals continuously to focus on developing our future title. Anyone prepared to develop a truly special game is always welcome."

Meanwhile, Kong Studios will start the collaboration event with the famous Japanese Anime, 'Slayers NEXT' in Japan for 4 weeks in May. The collaboration event was previously held in February for the global and Korean markets.

2022-03-07
Kong Studios' 'Guardian Tales' accomplishes 3 million downloads in Japan's two major marketplaces.

2022-03-07

- The game received positive reviews through excellent gameplay and aggressive local marketing.
- Guardian Tales ranked 3rd in sales in the Apple App Store after the "World 10 Chapter" update last January, continuing this upward momentum.

[March 07, 2022] 'Guardian Tales', a mobile game developed by U.S game developer Kong Studios Inc. (Kong Studios), surpassed 3 million downloads for two major Japanese marketplaces (Apple App Store and Google Play Store) within 4 months of its official Japan release.

Through its subsidiary in Japan, Kong Studios launched Guardian Tales in Japan in October 2021. Guardian Tales became the most downloaded free-to- play game in both major mobile markets within 2 days of release, maintained its status of most downloaded for two weeks straight, and then quickly surpassed 3 million cumulative downloads within 4 months of official launch in Japan. Additionally, the game ranked #1 in sales in the Google Play Store and #4 in the Apple App Store within the first month of release,leading to a smooth and soft landing in the Japanese game market. Furthermore, Guardian Tales climbed to #3 in sales in the Apple App Store after the "World 10 Chapter" update last January.

Guardian Tales success in Japan was attributed to the game's excellent game play, and its aggressive local marketing.

Guardian Tales received a remarkable 4.8 rating for 3 consecutive weeks in Japan's Apple App Store since the launch. The game was also selected for 'Apple Featured' for excellence in quality, which led to an explosive reaction from local gamers.

The game also released its popular "World 10 Chapter", which had positive reviews about its story from both Korean and Global users alike,within 3 months of launch to unfold the game quickly. Marketing strategies that communicated directly with fans also caught the attention of users, which included making new PVs, and conducting a live stream commemorating 100 days of release.

Kong Studios is planning to host an organized meeting with the Koreans users during March to improve services in Korea.

2022-02-23
Guardian Tales collaborates with hit anime Slayers Next for in-game goodies and crossover events

2022-02-23

An exciting crossover between Guardian Tales, the addictive action RPG developed by Kong Studios, and the popular Japanese Anime series, Slayers NEXT has arrived.

Adapted from the fantasy light novel series of the same name, the Slayer franchise features main protagonist Lina Inverse, a teenage sorceress battling against the forces of evil set forth by the Lord of Nightmares.

The Slayers universe has been adapted across a multitude of media platforms over the years. Kong Studios is proud to welcome the storied franchise to the world of Guardian Tales, a classic action-adventure RPG uniting charming pixel art graphics and dungeon crawling linked by a journey traversing a rich diversity of worlds, inspired by the history of gaming.

Slayers Next makes its debut in Guardian Tales with two Slayers-centric stories, showcasing a number of quests and subquests to explore.

Players will have access to the main protagonist Lina Inverse, a ★3 Hero added as a Pick-up Summon Hero. Lina's main companion Gourry Gabriev, a ★3 hero, and his exclusive weapon will be available for free via an in-game event.

Part two arrives at the global build Tuesday, March 8th featuring the mysterious priest Xellos, a ★3 Hero Pick-up Summon Hero.

More characters from the Slayers world will make appearances throughout the story and its events as NPCs.

[Data Source: gaminglyfe.com]
https://gaminglyfe.com/guardian-tales-x-slayers-collaboration-event/

2021-11-03
Kong Studios' Guardian Tales Reaches #1 in Google Play Store Sales in Japan Upon Release

2021-11-03

● The game ranked fourth in Apple App Store sales and has been the most downloaded free game on the Google Play and App Store for two weeks in a row.
● With a 4.8 rating on the App Store after three weeks, Guardian Tales was featured on the App Store and recognized for its quality gameplay and solid storyline.

Guardian Tales from US-based game developer Kong Studios is expected to make a splash as it topped sales on the Japan Google Play store upon release.

On October 6, Guardian Tales officially launched in Japan via self-publishing through its subsidiary Kong Studios Japan. The game has become the top-grossing app on the Apple App Store and Google Play in Japan for the second consecutive week after ranking first in Google Play and App Store downloads just two days after its release. Guardian Tales topped sales on the Japan Google Play store and rose to #4 on the App Store, marking a successful entrance into the Japanese market.

The game has not only become one of the highest-rated apps with an average 4.8 rating for three weeks in a row, but it was also featured on Apple's App Store for its top-tier gameplay and solid storyline.

Overall, Guardian Tales garnered positive reviews from Japanese users in various aspects, including the overall quality of the game, operation, and events. Some of the reviews are as follows: "It seems like they worked hard on the localization," "This game has a solid storyline with charming graphics," "It's a really good, well-polished game. It keeps me wondering what will happen next," "Interesting stories, pixel graphics with fluid movement, and great voice acting," and "I'm going to be playing it every day, and I'm looking forward to future collaborations or events."

In China, Guardian Tales also managed to take the #3 spot in Apple Store sales and the #1 spot in the Free Downloads category with the official launch of the service in April of this year. As of early September, the game had reached $216M USD (nearly 250 billion KRW) in global cumulative sales, showing steady and solid growth in the global game market. "In Japan, it is quite unusual for games developed by foreign game companies to rank first in sales," said an official in the game industry. "These achievements may serve as an incentive to pursue many different business opportunities, including IP-based projects."

2021-09-07
US-Based Kong Studios Inc (Kong Studios) Succeeds in Raising 62M USD in Series B Financing Round

2021-09-07

● US-based game developer Kong Studios closed a 62M USD Series B round, instantly becoming a 'unicorn' valued at 1B USD.
● The new investment will primarily be used to develop their next game title, expand its core business strengths, and lay the foundation for Kong Studios to grow into a global game developer.

US-based game developer Kong Studios has succeeded in raising series B investment of 62M USD. Kong Studios has earned a 'unicorn' status through this round, with valuation held at 1B USD.

Guardian Tales, a mobile adventure RPG game developed by Kong Studios, is well-polished and has a solid storyline with charming graphics. Since its global grand launch in North America, Korea and Europe in late July 2020, Guardian Tales has provided game services that have received exceptional reviews from global users. It successfully entered the Chinese market in April of this year and has reached 216M USD in accumulated global revenue and 25 million accumulated downloads, showing a steady and solid growth.

Aiming to launch Guardian Tales services in Japan in October of this year, Kong Studios ran a closed beta test (CBT) last August in efforts to enter into and eventually lead the Japanese game market. In addition to developing games, Kong Studios is expanding its role by self-publishing in Japan, and is planning to pursue diverse business opportunities, including IP based projects. The company is also preparing to release a global Nintendo Switch version of Guardian Tales.

"This investment has confirmed Kong Studios' ability to grow into a global game developer," said an official from Kong Studios. "We are planning to use the investment funds to employ key personnel, develop AAA game titles, and strategically incorporate IP related projects."

2021-08-24
Guardian Tales, a Global Hit Game Developed by Kong Studios, Enters the Japanese Market

2021-08-24

NV, USA - Guardian Tales, a mobile game developed by US-based game developer Kong Studios, is ready to enter the Japanese market.

Kong Studios is starting to provide Guardian Tales services via self-publishing through its subsidiary Kong Studios Japan. This is Kong Studios' first attempt to self-publish Guardian Tales. This is meaningful as Kong Studios can gain stable sales in Japan, a major IP country and the largest market in Asia excluding China, and seek out many different business opportunities such as IP expansion and related businesses.

To ensure high-quality localization, Kong Studios made some changes to the illustrations, reflecting Japanese users' tastes, and cast famous Japanese voice actors and actresses to enhance the story experience and make the game more complete. Furthermore, a high-quality translation into Japanese can help users get more immersed in the game.

Kong Studios has entered into a partnership with global game company Yostar to ensure smooth service operation in Japan and is now fully set up to provide successful service. The company is planning to manage various game operations jointly with Yostar, including local marketing, CS, and events for users. Kong Studios takes its first step into self-publishing by running a closed beta test (CBT) from August 24th to 31st.

"We've made a lot of preparations for the Guardian Tales services to be launched in Japan via Kong Studios' self-publishing," said an official from Kong Studios. "We are sure this game will be popular in Japan, too, like it has consistently been in Korea and other countries and regions such as North America and China."

Since its grand opening in July of last year, Kong Studios' Guardian Tales has made the following achievements based on its solid storyline, charming graphics, and level of overall polish.

● 10 million downloads and more than $100M USD in accumulated revenue (as of late February 2021)

● $5.53M USD in sales on the first day of its release in China when released through Bilibili in April 2021 under the title 'The Journey of the Princess and Guardian Knight of Kanterbury: Waking Up the Champion's Sword.'

2021-05-17
'Guardian Tales' (Kong Studios, Inc.) : $100M within 7 Months of Launch

2021-05-17

US based game developer Kong Studios announced that its mobile game Guardian Tales has surpassed $100M USD accumulated revenue & 10 million downloads just within 7 months of the official global (excluding China and Japan) release in late July 2020.

Guardian Tales was one of the most anticipated games of 2020 due to the solid storyline, charming graphics, and immersive gameplay it provided, all of which lead to more than 1 million pre-registered users before the global launch. Based on this popularity and anticipation, Guardian Tales succeeded in pulling in these exceptional numbers within a short period of time.

Guardian Tales continued this momentum in China, earning $5.53M USD on the first day of release. Upon receiving a license number issued to foreign games in China in February of this year, Kong Studios released Guardian Tales through BiliBili on April 27, 2021, under the title: 'The Journey of the Princess and Guardian Knight of Kanterbury: Waking Up the Champion's Sword.

The charts (for iOS) ranked Guardian Tales as #3 in revenue, and #1 for free downloads, a very promising indicator in the Chinese market.

Kong Studios is planning to release the commercial mobile version of Guardian Tales in Japan, as well as the global release of the Nintendo Switch version, in the second half of this year. For Japan, Kong Studios will be self-publishing Guardian Tales, a first for the company. Game development, localization, and operation will all be done in-house.

Guardian Tales, released globally in July 2020, is a mobile fantasy game revolving around the adventures of guardians to save the kingdom. It has a huge following due to retro style dot-graphics, immersive & absorbing storyline, quirky humor, and engaging gameplay.

2021-02-15
GUARDIAN TALES SEASON 2 – ROADMAP

2021-02-15

Season 1 will come to an end with the soon to be released Chapter 11.
However, it is just the beginning of the adventure for the Guardians and Little Princess!
The journey to seek the Champion Sword continues in Season 2 with a completely new world and progression.

There must be many questions about the direction of the game and the whereabouts of the Heroes. Celebrating New Years, the Developers of Guardian Tales have created a first half year roadmap to inform our Guardians.
Note that besides the 7 steps development plan that runs up to this summer, we are preparing numerous updates that reflect our Guardians' feedback!

Without further ado, let's talk about what we have to share.

※ Keep in mind that the following content are rough drafts; details and images can be changed in the actual update. Also, please note the dates mentioned are for the Korean server and global release dates may differ.

*Release months based on Korean server releases.

The date and contents in the development roadmap are long-term development plans, so they can be changed based on our development environment. We are also coming up with numerous updates based on our Guardians' feedback that are not in this development roadmap!

Finally, a sneak peak of when Season 2 will start.
The development team is already in progress to create the first chapter of Season 2.
A refreshing gameplay that will be completely different from Season 1 will be revealed!
The first world of Season 2 will be revealed around mid-April.

We will always try our best to provide joy to our Guardians.

Thank you for the continuous love and support for Guardian Tales!

[Data Source: guardiantales.com]
https://guardiantales.com/news/78

2020-07-28
GUARDIAN TALES GLOBAL LAUNCH!

2020-07-28

After 5 months of soft launching in select countries for testing and improving the quality of the game, Guardian Tales is now ready for Launch! As of July 28th, 2020, Guardian Tales is available worldwide on the App Store and Google Play Store.

Along with the Global Launch, everyone will get to start off with extra rewards thanks to the pre-registration milestone event that was successful in collecting more than 1 Million pre-registrations! If you log into the game before the end of the day on August 27th, you will receive a special costume for your knight hero along with a ton of other stuff that will help you on your adventure in Guardian Tales.

[Data Source: guardiantales.com]
https://guardiantales.com/news/18

2020-07-27
OVER ONE MILLION PRE-REGISTRATIONS

2020-07-27

Thanks to your amazing support and efforts, we've reached over 1,000,000 pre-registrations! We hope you're as excited as we are for the Guardian Tales Global Launch! If you haven't already, be sure to tell all your friends so that they can claim the pre-registration rewards that you've unlocked in-game

[PRE-REGISTRATION REWARDS]

■ Exclusive Gift

- Royal Knight Costume (Male)

- Knight of Rose Costume (Female)

■100,000 Milestone (COMPLETE)

- 3★ Copper Sword

■ 300,000 Milestone (COMPLETE)

- EXP x100,000

■500,00 Milestone (COMPLETE)

- Star Piece x5

■ 700,000 Milestone (COMPLETE)

- Hero Crystal x20

■ 1,000,000 Milestone (COMPLETE)

- Knight Evolution Stone x120

All pre-registration rewards will automatically be sent to your in-game mailbox with our Global Launch. You will have until August 27th to log in and claim your rewards.!

[Data Source: guardiantales.com]

https://guardiantales.com/news/15

2020-07-02
Guardian Tales is ready to make its Global Debut

2020-07-02

Players from all over the world will soon be able to join the epic adventure at the end of July!

Guardian Tales is currently available in selected countries as a soft launch (Canada, Ireland, Netherlands, Switzerland, Sweden, Argentina, New Zealand, Philippines, Malaysia, Indonesia) to test out the game contents and find technical issues. Numerous updates and improvements have already been made throughout the soft launch period thanks to the growing number of Guardians providing us with data and feedback. Now, we are ready to expand and share this adventure with the rest of the world!

Starting now, you can pre-register for Guardian Tales from our website. You are also welcomed to pre-register from the Google Play Store as well here. The Apple App Store Pre-Order is currently not available at this time, so players wanting to play on an iPhone or iPad, please pre-register from our website and download Guardian Tales when it is released at the end of July 2020.

There is also a Pre-Registration Milestone Event for everyone. Just by pre-registering, you will get an EXCLUSIVE costume for your Knight! Also, the more players that pre-register, the better the rewards get! Be sure to share and invite all of your friends to pre-register and join you on your journey. We are all in this together and invite everyone to pre-register and get the rewards to have a fantastic start to your new adventure.

[Data Source: guardiantales.com]

https://guardiantales.com/news/5

2020-06-15
NEW SERVERS - EUROPE, OCEANIA, LATIN AMERICA

2020-06-15

Starting today, in the ramp-up to a global launch, Guardian Tales is now available in Argentina, Ireland, Netherlands, Switzerland, Sweden, and New Zealand.

The newly added regions are paving the way for the global launch of the game. After being playable in Canada since April, the feedback so far has been overwhelmingly positive. Numerous updates have already been made and more are currently in progress to incorporate the feedback received from Canadian players. Min Kim, [CEO] at Kakao Games Europe B.V. said the following of the reception so far:

"We are thrilled to see Canadian players enjoying Guardian Tales this much. We truly want to thank Guardian Tales fans and the community for playing and providing the feedback we need in order to keep improving the game. So far, from what we've seen during the soft launch, we are very excited about the global launch this summer."

To facilitate the users from the newly released countries, servers have been set up in Europe, Latin America, and Oceania. This is in preparation for the global launch that is currently planned for the summer. A more exact date will be shared at a later date.

[Data Source: guardiantales.com] https://guardiantales.com/news/4

2020-02-25
Guardian Tales soft-launch in Malaysia and Philippines

2020-02-25

Kakao Games in association with Glohow brings Guardian Tales, a new pixel RPG, with a soft-launch in Malaysia and the Philippines! Developed by Kong Studios, the Facebook page promises 50 over heroes you can collect in the game. More territories will open at a later date.

The features of the game are given on its Google Play Store page as follows:

■ ADVENTURE RPG



- Challenge yourself and test your wits with mischievous puzzles through your journey. Leave no stone unturned! Secret path and treasure could be hiding anywhere. Can you uncover them all?

■ BOSS BATTLES



- Do you miss the feeling of boss battles in retro gaming? Control and utilize the guardians' combo skills with your fingers. Find a secret trick to end the fight! Some bosses can be pretty tricky to beat.

■ BUILD YOUR SQUAD

- Over 40 unique pixelated characters are waiting to join your journey. More than 800 pieces of equipment to collect. Forget that the guardian will hold only a sword & shield.



■ TAKE A BREAK IN FLOATING ISLAND

- Customize and decorate a heavenly place for your guardians to take a rest after a long journey. Collect rewards from your guardians, it is a thank you gift from them!

■ FIFTY PARODIES OF CLASSIC

- Are you an easter eggs hunter? There are fifty parodies of classic story for you to discover.



■ MUCH MORE FUN!!

• Guild: It's dangerous to go alone. Let's unite and fight with friends!

• PVP: Show your skill and prove your strength against other guardians in real-time.

• Special Dungeons: Various types of dungeons! Fight your way through every form of challenge.

[Data Source: guardiantales.com]

https://www.gamerbraves.com/guardian-tales-soft-launch-in-malaysia-and-philippines/

2016-05-25
Dungeon Link merges with Adventure Time with Major Content Update

2016-05-25

LOS ANGELES, CA- May 16- GAMEVIL and Cartoon Network have partnered to introduce the latest Dungeon Link cross-over, Dungeon Link: Adventure Time. Using easy-to-learn puzzle mechanics, Dungeon Link will let players connect colored tile blocks together while using several memorable characters from Adventure Time. Launching today, Dungeon Link will give players access to new themed areas and heroes while continuing on an epic quest to save both Katerbury and the Land of Ooo. Details include:

New Adventure Time Heroes: Players will be able to summon over 20 new Adventure Time characters to assist them. Discover the marvel of each character and how they fit in your team.

Three Unique Episodes: Enjoy three new and exciting Adventure Time scenarios to play through. Each episode will take you on epic journey as you travel with Finn and friends while battling against new and familiar enemies. Episode one: Ice Kingdom will have players uncover the whereabouts of the missing Ice King. In episode two, players must travel through the Ancient Heroes Temple. Finally, in episode three, our heroes will face off against the wicked Andras, the Demon God!

Unique Character Abilities: Dungeon Link's heroes have access to powerful abilities, and the Adventure Time cast is no different. Each character can perform special abilities, such as the ability Jake Hammer which has Jake smashing all enemies with his giant fist and has a chance to stun all targets.

New Tree Fort: Players will use Finn's famous Tree Fort as new base of operations while travelling across the Land of Ooo.

Published and serviced worldwide by GAMEVIL USA, the collaboration with Cartoon Network continues to expand mobile gaming into the many different mediums of entertainment and media.

Dungeon Link: Adventure Time is now available to download via Google Play and App Store.

[Press Release: GAMEVIL USA]

https://us.gamevil.com/company/press/6106

2015-04-21
KONG STUDIOS and GAMEVIL Launch Dungeon Link on App Store and Google Play

2015-04-21

LOS ANGELES, CA – APRIL 21, 2015 – Link your way to victory in Dungeon Link, a new puzzle game available on App Store and Google Play today. Developed by KONG STUDIOS in San Jose, CA, Dungeon Link combines RPG features like battles, teams, and a story with block-connecting puzzles for an original puzzle RPG.

Dungeon Link takes place in the whimsical world of Kanterbury, where the Demon King has caused disorder and chaos – and it is now up to a team of heroes to journey through dungeons, solve the mystery, and restore peace. Throughout the game, players can recruit and summon over 200 heroes to create a party of five with diverse attacking and healing abilities. Using all team members, players will link color-coded blocks to strike their enemies and clear each stage.

Players can participate in boss raids and daily dungeons, challenge others to PvP games, and chat with friends in the game. They can also complete daily quests and long-term achievements to receive additional rewards.

Won Sok and Jee Lee, co-founders of KONG STUDIOS, met in 2008 as graduate students at the School of Computer Science at Carnegie Mellon University. Five years later, they created their studio and began the development of Dungeon Link. Published by GAMEVIL USA, Dungeon Link is KONG STUDIOS' first title to be released on App Store and Google Play.

[Press Release: GAMEVIL USA]

https://us.gamevil.com/company/press/6068